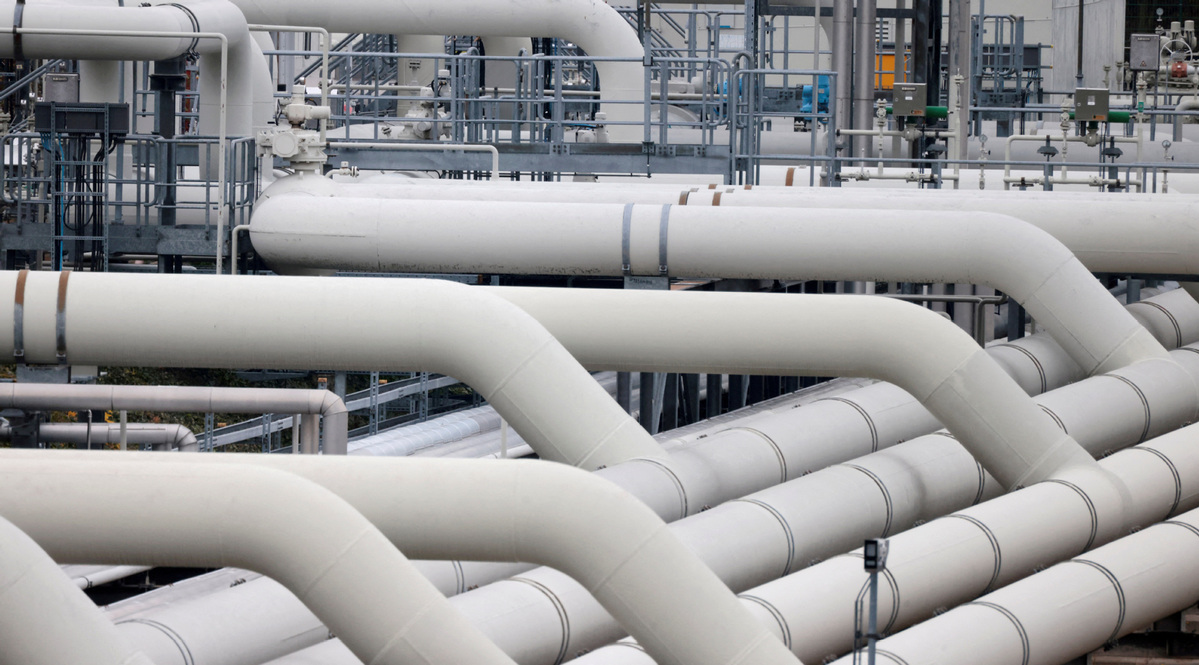 Pipes are pictured at a gas compressor station in Mallnow, Germany, Nov 1, 2021. [Photo/Agencies]
Germany had a trade deficit of €1 billion ($1.02 billion) in May, according to the Federal Statistical Office of Germany. This was largely because of a surge in import costs. The average price of imported goods in Germany rose 31.7 percent compared with the same period last year, while the price of natural gas, mineral oil and crude oil rose 301.2 percent, 106.6 percent and 77.5 percent respectively from the same period last year.
More than 60 percent of the energy Germany consumes is from imports, and its dependence rate on imported natural gas is even higher. That's why many German companies have been hit hard by soaring energy prices.
This creates a downward spiral: the more a company produces, the more it loses. So German export orders will start to fall in the coming months, and it is not necessarily because of falling external demand, but its own reluctance to produce.
As such, while a €1 billion trade deficit is small for Germany, it does not bode well, as the country has not seen a trade deficit since 1991, and therefore it raises a question about whether the German economy is heading for recession. Some started asking the question in March, and now more and more people believe that a recession seems unavoidable.
The German economy contracted in 1993 after East and West Germany merged; in 1999 after the Deutsche mark was replaced by the euro; and in 2009 after the global financial crisis.
However, thanks to its manufacturing prowess, the German economy has been resilient enough to survive every downturn. The international financial crisis and the European debt crisis have even given Germany more clout in Europe than it used to have.
Germany is now entering another period of economic decline. But it is more or less of its own making this time-Germany is paying the cost of allowing the United States to take control of Europe, and its participation in the sanctions against Russia.
That's worrying for the European economy. Some small countries, such as Estonia, Lithuania and Latvia, whose inflation rate hit 20.1 percent, 18.5 percent and 16.8 percent in May, have been reckless vanguards in the endorsement of the US' stance in geopolitical games, counting on the European Union's assistance. But they might have to fend for themselves this time.
In the European debt crisis of 2011, Germany, with a sufficient supply of Russian energy thanks to the stable relations with Moscow maintained by then chancellor Angela Merkel, acted as the savior of the European Union. Now Germany's plan is to stop importing Russian coal and oil by the end of 2022 and wean itself off Russian gas by mid-2024, without clarifying from where it can obtain the energy to fill the gap. Will Germany be able to save the EU this time?