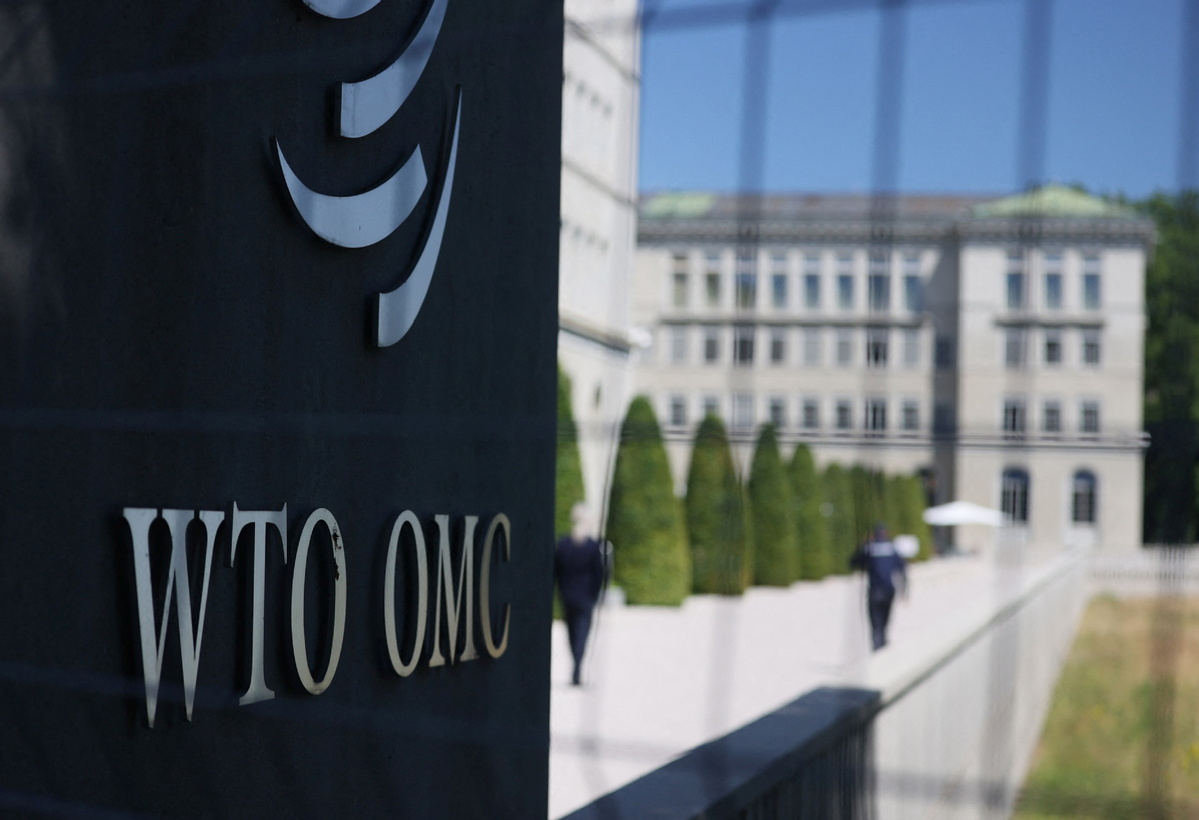 A sign is pictured in front of the World Trade Organization headquarters ahead of the Ministerial Conference (MC12) in Geneva, Switzerland, June 12, 2022. [Photo/Agencies]
A package of agreements reached at the recently concluded World Trade Organization's 12th Ministerial Conference-MC12-on WTO reform, epidemic response, food security, fisheries subsidies and e-commerce, has given a strong boost to the international community's confidence in the multilateral trading system.
The conference arrived at an outcome document, the first of its kind since the MC10 in Nairobi, Kenya, in 2015, in which the parties reaffirmed their commitment to strengthening the WTO-centered multilateral trading system and advancing necessary WTO reforms.
Against the backdrop of rising protectionism, a series of outcomes reached at the MC12 sends a positive signal of joint efforts to uphold the multilateral trading system and injects strong vitality into the world economic recovery. The conference touched upon problems that concern all WTO members. This once again shows that upholding a multilateral trading system not only serves the common interests of the international community, but is also a shared responsibility of all parties.
As long as all WTO members show the resolve to work together to overcome any difficulties, the WTO will play a bigger role in improving global economic governance, promoting economic globalization and world economic prosperity and stability.
One meeting cannot solve all the challenges facing the WTO. At present, the three pillars of the WTO, the dispute settlement mechanism, the multilateral trade negotiation mechanism and the trade policy review mechanism, are all facing challenges. In particular, the suspension of the appellate body of the dispute settlement mechanism has undermined the authority and effectiveness of the WTO.
As WTO Director-General Ngozi Okonjo-Iweala pointed out, the package of agreements reached at the meeting show that WTO members can come together across geopolitical fault lines to address issues of global common interest.
China is an important contributor to the multilateral trading system, and the outcome of MC12 could not have been achieved without China's participation and support. China will continue to support the WTO, work for early resumption of the appellate body, and support the WTO in carrying out necessary reforms.
China practices true multilateralism and is ready to make positive contributions to the development and improvement of the multilateral trading system with the WTO at its core, so as to make economic globalization more open, inclusive, balanced and beneficial to all.