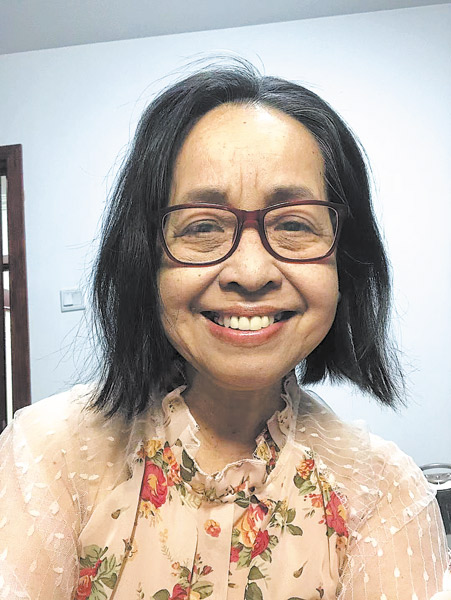 Cristina Pastor [Photo/China Daily]
I'm so addicted to a video of a cute little Chinese girl eating, that I uploaded it to my WeChat Moments.
There's literally hundreds of similar videos out there, but I'm particularly drawn to this girl from Tonghua, Jilin province. I discovered her while working from home, video-swiping while in a state of self-isolation.
This adorable pig-tailed toddler is probably 3 or 4 years old. In her videos, which I have recently started following, she is seated on a high chair with a plate of carefully arranged food for her to eat. Some days she is served watermelon, fresh broccoli and pork bun; other days it's meatballs, rice, stewed vegetables and ribs. Sometimes it's just a bowl of porridge. She eats with gusto while having a conversation with her mother.
I don't understand what mother and daughter are talking about. Everything is like mime to me, which partly explains why I'm hooked. I watch and make up stories in my head. And yes, my mental health is just fine, thank you.
What I find cutely irresistible is her girly voice, seemingly imitating an adult timbre, while she is chomping on her food. She talks, gesticulates with her hands like she is trying to make a point, and then puts more food in her mouth using training chopsticks. Sometimes, she eschews any utensils and just lobs food inside her mouth with her bare hands. Occasionally, she can be seen eating an oversized dumpling without cutting it and talking with food in her mouth. All I can think is, "careful, baby girl, don't choke!"
Videos of little Chinese (or Asian) girls eating are all the rage on YouTube and TikTok. Some videos are of toddlers eating long strands of ramen. Others are of chubby children eating spicy food or sour lemon.
China's fascination with eating videos may have started with Xiaoman, the pioneer "eating sensation" whose 2017 videos had attracted nearly 3 million views, according to The Wall Street Journal. Xiaoman-full name is Bai Cairan-started doing her eating videos at 2-and-a-half years old. There is now an app dedicated entirely to content of "cute Asian children eating".
The video of the Tonghua girl shows nothing disgusting, thank goodness. The girl is never seen with a messy face. I asked a friend to translate. Her mother would remind her to eat slowly, not to make a mess or to make noise when eating her soup. Her videos do not show her mother but her faint voice can be heard in the background.
The girl's facial expressions run the gamut from curious, laughing, arguing and smiling to masticating, listening and expressing frustration, which probably explains why she has only a few hundred followers, despite regular uploads. An early video shows the girl sporting short hair with bangs. The bangs are gone now.
The reactions are mostly positive comments: "Cute girl", "Not a picky eater", "Well-bred good baby", "Educated mom", "Mom must love to cook", etc.
I wish the girl and her mom well on their vlogging journey. May their charming chats attract more viewers, the girl continue to be cute and unchanged by celebrity. I hope she carries on eating heartily like no one is watching.