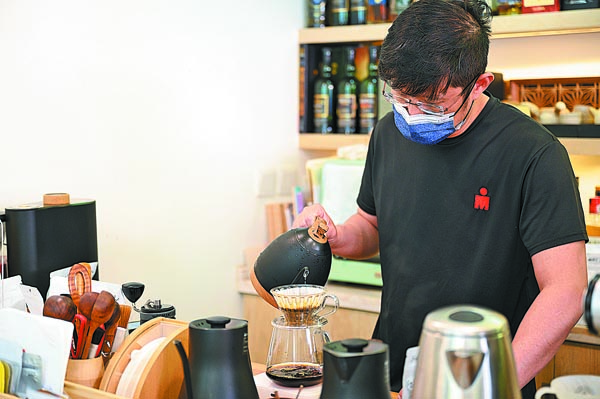 Tsai Hsi-ching makes coffee at his shop. [PHOTO BY CHEN CHUHONG/CHINA NEWS SERVICE]
Inside a coffee shop in downtown Guangzhou, Guangdong province, there is not only a buying frenzy of coffee and desserts but also the practice of traditional Chinese medicine.
The shop, owned by Tsai Hsiching of Taiwan and his wife, has become a hot leisure and TCM treatment spot since it opened in October 2019.
"We not only make specially baked coffee but offer TCM treatments to our customers," Tsai said. "Coffee shops are considered favorable places for business meetings, as well as platforms linking young people to TCM."
Tsai and his wife became certified TCM doctors after completing their studies at Guangzhou University of Chinese Medicine about a decade ago.
"Young people like to try TCM treatment when they discover that such services are available in the coffee shop. Many have become regular TCM customers here," he said.
Tsai's shop, Changtan Coffee, is located in the city's booming Tianhe district, where there are more than 1,000 coffee shops of different sizes and styles. Half of those are in the central business area-about 50 shops per square kilometer.
Tianhe's central business area boasts the most Fortune Global 500 companies in Guangzhou. About 120 businesses have their headquarters in the district, accounting for 25 percent of the total.
"There are many young people working around the shop. As a result, it is an ideal place to promote TCM by integrating medical treatment with coffee," Tsai said.
In China, a growing number of TCM pharmacies have introduced coffees that combine TCM ingredients and coffee, such as goji berry latte, hawthorn and rose americano and sugar snap pea cappuccino.
However, Tsai said they would not consider such innovative styles anytime soon.
"We will focus on making specially roasted coffee and promoting TCM treatment services," he said.
In the shop, all coffee is prepared by hand, with beans roasted to light or medium levels.
"We don't bake the beans too deep because we want to avoid excess caramelization," Tsai said.