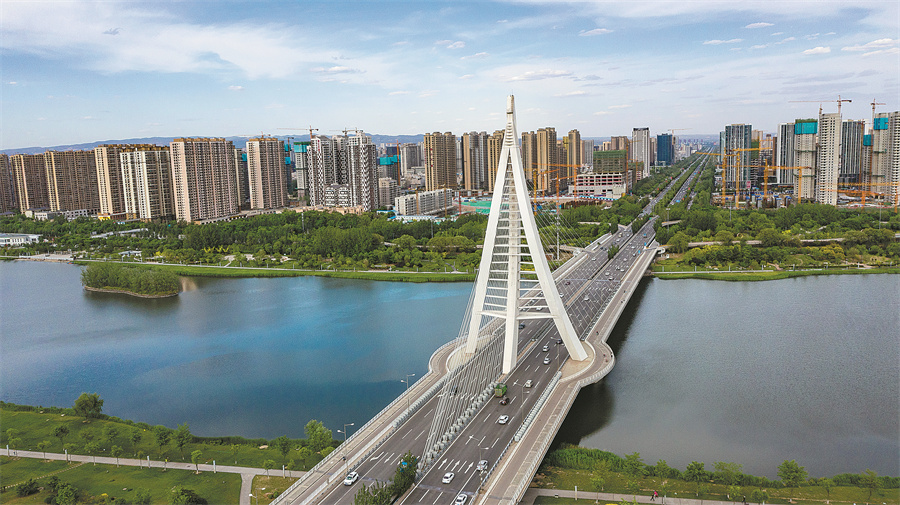 An aerial photo of a bridge spanning the Fenhe River in Taiyuan. [Photo provided to China Daily]
From smelly and polluted to environmentally sound, the resurrection of the Fenhe has brought opportunity all around
Editor's note:China has seen tremendous changes nationwide, from economic growth to environmental protection, from social improvement to cultural progress. In this series, China Daily maps the changes and tells the stories of the people who lived through them.
The Fenhe River, which originates in Ningwu county in the north of Shanxi province, is one of the few rivers to flow from north to south in China, where rivers mostly flow from the highlands in the west to the coast in the east.
Stretching 713 kilometers and with a drainage area of 39,721 square kilometers, the Fenhe is the second-largest tributary of the Yellow River, which is the second longest river in the country and considered China's "mother river".
In turn, the Fenhe is the "mother river" of Shanxi, a region roughly the size of Florida and home to 34.8 million people that is famous for its coal reserves, cooked wheaten food, vinegar and long history as a cradle of Chinese civilization.
The 43-km section of the river winding through downtown Taiyuan, the provincial capital, has been turned into a green belt-like city park that is popular with residents.
He Xiaofei, an engineer working for the Fenhe River scenic area administrative committee and a photographer, said the river landscape is woven into the city, and the river park has become one of its calling cards.
It wasn't always this way. Twenty-three years ago, the Fenhe was synonymous with polluted, foul-smelling water back when the three most seriously polluted cities in China were located in the province. At the time, the river served as a de facto gutter for cities and factories, ranging from coal chemical plants to coal cleaning plants.
"Shanxi's mother river is dead," is the way many locals described the Fenhe at the time.